Snap on Smiles: A New Trend in Cosmetic Dentistry.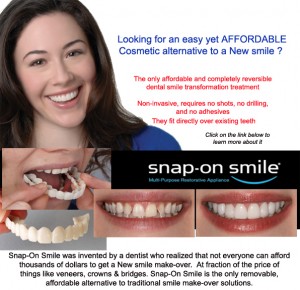 The British Public are always looking for constant ways to look younger and better looking, and a perfect smile is likely the first step . Cosmetic Dentistry in the UK is a Multi Billion Pound industry. We at Chafford Hundred Dental Care can alter your smile permanently with a combination of veneers, crowns, bridges or Dental implants.
These dental procedures can cost alot of money and expense to your pocket. They often come with complications as well. If you have cold feet about making a life changing commitment to your dental health and do not want to pay thousands for a Smile Makeover – then the Snap on Smile may be your answer!
How does the Snap on Smile Work?
Would you like to have that Julia Roberts Smile? You could just simply order a set with her look. It really is that easy! The Snap on Smile are removable devices that sit nice and snugly over your existing teeth to correct or reduce any imperfections.
We dont have to give injections or drill any of the teeth and within a month you too can have that perfect smile.
The convience of the Snap on Smile is incredible as well as the price. Where a Single veneer can cost you up to 700 pounds or more, you can order a full row of snap on teeth for just 895 Pounds.
What Else Should i Know?
A Snap on Smile does not affect the postion of your teeth so those who look like the Disney Character Goofy will find that the appliance will accentuates the problem. For most patients, However, Snap on Smiles could instantly provide brighter, whiter and straighter teeth in an instant.
Call Dr J Basrai on 01375481000 for a Free Consultation.