A smile is a curve that sets everything straight – or so the saying goes. This is in fact true for those who are optimistic enough to smile at their own troubles. However, how could a smile set everything straight if the teeth are actually crooked?
This is a problem that many people in the world have to endure simply because they have no alternative options for traditional braces, which they do not want to wear. In comes the Six Month Smiles, revolutionary method that promises to straighten teeth within six months. The treatment was started in the US and is now introduced in Europe, particularly the United Kingdom. The treatment involves wearing small, discreet, tooth-colored wires that gently reposition teeth.
The Six Month Smiles treatment is used to treat a variety of orthodontic problems. They include crowding, overbite, spacing, over-jet, under-bite, open-bite, misplaced midline, and cross-bite. There is crowding when the teeth look too close together or a bit crowded because of lack of breathing gaps in between. Overbite is the condition where the upper teeth overlap the lower teeth noticeably. Spacing is when there are noticeable spaces in between the teeth.
Over-jet, meanwhile, is the condition where frontal teeth jut out. In under-bite, the teeth below clearly protrude; on the other hand, the teeth do not touch when biting in open-bite. Misplaced midline happens when the mid lines of the teeth aren't in alignment; in cross-bite, teeth don't bite or impact on the right side. Fortunately, these orthodontic problems can easily be solved by the said treatment and can give patients a new smile not in years but in just months.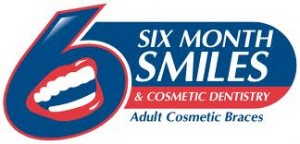 What is great about this new revolutionary treatment is that aside from the fact that treatment is shorter than the alternative treatment, any discomfort which the patient is ought to feel is minimal. The cost is also half the price of what the patient would pay for if he or she had gotten traditional braces. With the Six Month Smiles treatment, patients will be able to know what it feels like to smile with all their heart's desire. And while a smile is a curve that sets everything straight, so does this treatment, which will set even the most crooked of teeth straight.